September 26, 2023 | Newsletter | Nick Gardner
September '23 Newlsetter
Embrace Autumn!!

In this Issue:

Oct 28 Harvest + Halloween + Pickup Party

Sauv Blanc Harvest

Featured Wine: 2018 Syrah "Betsy Ross"

History Spotlight: Betsy Ross
CLUB
Next Wine Club is the November Veterans Day shipment.
Save the Date! The Wine Club Pickup Party will be Saturday October 28th, 1-4pm.
A celebration of Harvest and Halloween -
TRICKS (games; wine bottle crafting options; kids and costumes welcome!)
TREATS (wine, light food pairings)
For those who choose shipping, shipments are scheduled to go out Monday 11/6/23.
FREE for Wine Club members; $20 for guests
Please RSVP to info@libertycellars.com by 10/20/23.
Not a member yet? Join / More info here.
Some craft inspiration (credt Pinterest and others)...




...and our mini pumpkin patch is picking up steam.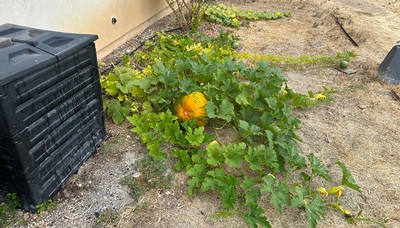 VINEYARD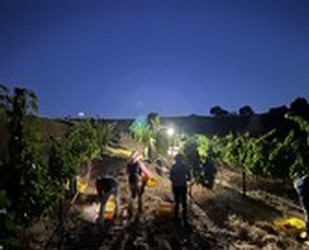 .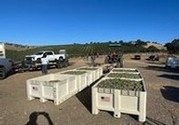 Harvest is Here
We picked the Sauvignon Blanc on September 13th, almost a month later than last year. Additional blocks of SB came online this year, and we harvested ~2.5 tons. With the additional volume, we are planning two styles of SB for 2023 to expand upon the positive feedback from our 2022!
The subsequent cool weather has slowed the ripening of our red varietals, but the fruit is looking great on all six: Cabernet Sauvignon, Zinfandel, Petite Sirah, Cabernet Franc, Malbec, and Syrah. 2023 will be the first harvest for our 3 year-old Cab Franc and Malbec vines!
For more pics, videos, and updates, please follow us on Instagram, Facebook, and now X/Twitter.
WINE

The 2018 Syrah marks our first stand-alone Syrah and features Betsy Ross on the label.

Tasting notes: Aromas of candied raspberry and strawberry, mint, white pepper, and vanilla wafer greet you on the nose. The palate has bright acidity to focus its direction, with flavors of fruit roll up, savory herbs, and mineral notes. This is an easy drinking wine that will do well with some bottle age.

Good on its own and very versatile, consider pairing with rib eye, goat cheese, flavorful poultry dishes.

We now ship to: CA, CO, DC, FL, MA, MO, MN, MT, PA, TX, and VA! Let us know if we can add your state.
HISTORY





Betsy Ross

Born: 1/1/1752 in New Jersey
Died: 1/30/1836 in Philadelphia
Upholsterer, Seamstress; Quaker then Anglican
2018 Syrah

Elizabeth 'Betsy' Ross (nee Griscom) was born on NYD, the 8th of 17 children. At age three, she moved with her family to Philadelphia and was soon taught to sew by her great aunt. She apprenticed with a local upholsterer where she met her first husband, John Ross. Because of their mixed faiths, they eloped.

Upon return, she started her own business, which she successfully operated for over 50 years. John Ross was killed shortly after the Revolution broke out, while guarding munitions. Betsy persevered in the business, making patriot flags and uniforms from her shop near Independence Hall. She remarried in 1777 to Joseph Ashburn who was captured in the war and died in British captivity. Later she married John Claypoole who also pre-deceased her.

She is credited with sewing the first flag of the new country and for convincing Washington to approve five-point stars (over his design for six-point) by demonstrating the ease of cutting five-points.

More at https://www.battlefields.org/learn/biographies/betsy-ross
Skål !! (Scandanavian toast)
- Nick and the Liberty Team
We now ship to: CA, CO, DC, FL, MA, MO, MN, MT, PA, TX, VA ... and growing!
Comments
Commenting has been turned off.