Our Wines
We are a micro-production winery in Paso Robles, California, making less than 400 cases a year. We feature single varietal and blends from the seven grapes we grow on our 20-acre estate vineyard: Cabernet Sauvignon, Sauvignon Blanc, Syrah, Petite Sirah, Zinfandel, Malbec, and Cabernet Franc.
Our aim is to make wines that are the best expressions of the fruit from our property. Bolder wines exemplary of the Paso Robles area. Connected to the land where they're grown, influenced year to year and made individual by Mother Nature. Small batch fermentations, careful but minimalist winemaking, extended aging in barrel and bottle. Sold exclusively via our website and in person.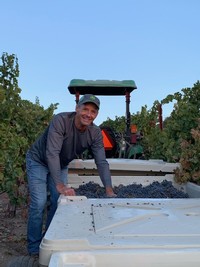 Some notes: Our wines are typically not filtered. And because of lengthy aging in bottle (upside down), you can expect to encounter some sediment on the cork and in the glass. We recommend aerating our reds either by decanting, opening 30+ minutes before serving, or using an aerator. We hope you enjoy - cheers!