Uncle Wade's Mac n Cheese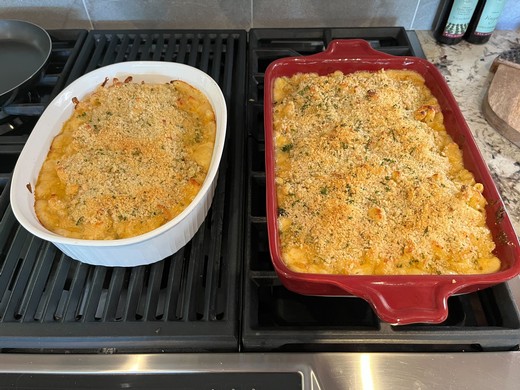 Recipe Date:
April 25, 2022
Measurements:
Imperial (US)
A family favorite - this dish can stand alone as a meal or ride tandem with beef or chicken. Apply your creativity and make it your own - experiment with alternate cheeses, meats, veggies.
Ingredients
2 tbsps unsalted butter
1 tbsp extra virgin olive oil
2 garlic cloves, chopped
1 lb ham steak, cut into chunks (optional)
1 onion
1 lb Cavatappi pasta
2 tbsps kosher salt
6 tbsps truffle butter (can use regular butter)
1/2 cup all-purpose flour
4 cups whole milk, scalded
4 cups Gruyere cheese, grated
2 1/2 cups extra-sharp Cheddar, grated
1/2 tsp nutmeg
1 tsp freshly ground black pepper
5 garlic cloves
1 small bunch of freshly Italian parsley
1 1/2 cups bread crumbs
Directions
1. Preheat the oven to 375 degrees F.
* Open your wine pairing to let it breathe *
2. Heat the butter and 2 tablespoons of olive oil in a large pot and cook onions over medium heat for 3 to 5 minutes, until they are tender add garlic and cook for another 2 minutes add ham chunks and sauté for a few minutes. Remove heat and set aside.
3. Bring a large pot of water to a boil and 1 tablespoon of kosher salt. Add the pasta and cook for 6 to 8 minutes, until maybe half cooked. Drain well.
4. Meanwhile, melt the truffle butter in a large (4-quart) saucepan and whisk in the flour. Cook for 2 minutes over low heat, stirring constantly with a whisk. Slowly whisk in the hot milk and cook for 2 minutes, stirring constantly with a wooden spoon, until the white sauce is thickened and creamy. Off the heat, add the Gruyere, Cheddar, 1 1/2 tablespoons salt, the pepper, and nutmeg.
5. Combine the pasta, sauce, onion and ham mixture in the large pot and mix to combine then into a 10 by 13 by 2-inch baking dish.
6. Add bread to processor and chop until desired size( I like big boy bread crumbs), remove and place in a mixing bowl. Place the garlic and parsley in the bowl of a food processor fitted with the steel blade and pulse until they're minced, add to bread crumbs. Mix together while adding EVOO to lightly coat. Sprinkle Parmesan cheese over top, then breadcrumb and parsley garlic mix over the pasta and bake for 35 to 45 minutes, until the sauce is bubbly and the crumbs are golden brown. Serve hot.