Autumn Pecans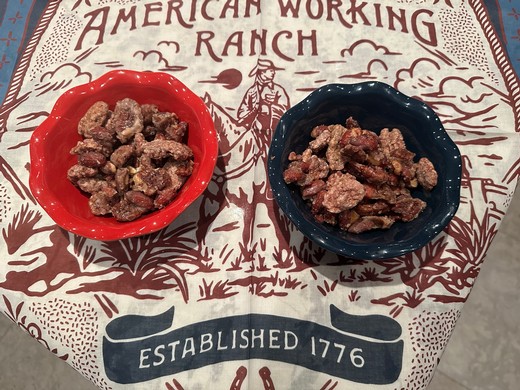 Recipe Date:
November 13, 2022
Measurements:
Imperial (US)
We made with pecans and almonds.
Ingredients
1 egg white
1 tsp water
1 lb Nuts (Pecans, Almonds, etc)
1 cup sugar
1 tsp salt
2 tsps ground cinnamon
1 tsp ginger
2 tsps ground nutmeg
Directions
Preheat oven to 225 degrees.
Large Bowl: Whisk egg white + water to froth. Mix in nuts, stir to coat.
Small Bowl: Mix sugar, salt, cinnamon, ginger, and nutmeg.
Pour spice mix onto nuts, stir to coat.
Spread on parchment-lined cookie sheet.
Bake for 1 hour, stir occasionally.
Enjoy!