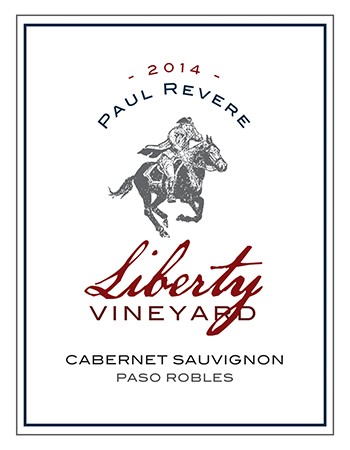 Wine Specs
Varietal
Cabernet Sauvignon
Vineyard Designation
Liberty
Aging
16 months in barrel.
2014 Cabernet Sauvignon
Paul Revere
Just as Paul Revere called Americans to first action, this Cab kicked off our winemaking! The grapes were hand picked from select rows in the main vineyard. The fermentation was tormented by the high sugars at harvest; at one point almost lost, this small first batch has a unique boldness and special place in our history. Note: Manual bottling line...hey, it was the early days!...the label is too low on the bottle and the cork might look as rough as the British retreating from Concord that day, but not to worry!
Wine Profile
Tasting Notes
Ripe, bold, powerful, full throttle Cab. Drink now.
Vineyard Notes
Severe drought.
Production Notes
50 cases.
Winemaker Notes
Challenging fermentation due to higher sugars driven by drought/late-ish harvest.
Food Pairing Notes
Perfect for steak, marinated grill, even a chocolate binge.